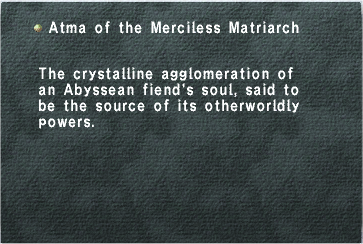 Atma of the Merciless Matriarch
Description:
The crystalline agglomeration of
an Abyssean fiend's soul, said to
be the source of its otherworldly
powers.
Notes:
Magic Accuracy+: Superior (+value

), Fast Cast+: Superior, (7.5%),
(Same element magic as weather) Enmity-
: Superior (+
value

)
Ad blocker interference detected!
Wikia is a free-to-use site that makes money from advertising. We have a modified experience for viewers using ad blockers

Wikia is not accessible if you've made further modifications. Remove the custom ad blocker rule(s) and the page will load as expected.