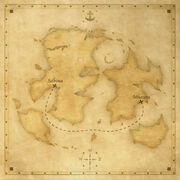 The Bastore sea is a large body of salt water, lapping the shores of nations on the Quon and Mindartia continents. Jeuno divides the Bastore Sea from the Sea of Shu'Meyo in the North and the Bastore sea stretches into the uncharted waters that lie far to the south.
The Bastore sea reaches the southern shores of West Sarutabaruta on the Mindartian continent, and also can be seen from Sauromugue Champaign. To the west, on the Quon continent, it is fishable from the cliffs of Batallia Downs, while the waters of the Phanauet Channel and Carpenters' Landing both channel into it. Further south, views of the sea can be had from the Rolanberry Fields end of the bridge from Sauromugue Champaign. To the south and west, the name changes to the Bhefhel Sea which reaches South Gustaberg and Port Bastok.
The sea is crossed, in the south, by the ferries plying their way between Selbina and Mhaura. Occasionally, a notorious monster known as the Sea Horror will climb onto the ferry as the ship passes over the monster's lair. This nemesis has been known to wipe out entire groups of adventurers traveling on the ferry, caution and preparation are advised.
The Sea Horror is not the only danger travellers face, the sea is also frequented by the Pirate ships, possibly as they make their way between Norg and Jeuno and which will often attack the ferries. On those trips where the Pirates attack, the Gugrusaurus can also be fished, leading to some speculation as to it's normal habitat in the warmer waters further south, and the fish possibly following the Pirate Ship northwards.
NPCs Found Here

Possible Weather
Weather Reporter
Area affected
Wachiwi - Selbina (H-9)
Pekuku - Mhaura (H-9)
Selbina-Mhaura

Shashan-Mishan - Lower Jeuno (F-11)
Leffquen - Port Jeuno (J-8)
Appollonia - Upper Jeuno (G-6)
Wachiwi - Selbina (H-9)


Batallia Downs

Elemental Maps
None.
A = Aggressive; NA = Non-Aggresive; L = Links; S = Detects by Sight; H = Detects by Sound;
HP = Detects Low HP; M = Detects Magic; Sc = Follows by Scent; T(S) = True-sight; T(H) = True-hearing
JA = Detects job abilities; WS = Detects weaponskills; Z(D) = Asleep in Daytime; Z(N) = Asleep at Nighttime; A(R) = Aggressive to Reive participants
Mobs Found Here
Name
Level
Drops
Steal
Family
Spawns
Notes
Crossbones

Both routes during Pirate Attack

28-31
Bone Chip
Sand Charm
Skeletons
4
A, H, HP
Ocean Pugil

Fished up

15-19
Pugil Scales
Shall Shell
Pugils
1
A, H
Phantom

During 20:00 to 4:00

22-25
Cotton Cloth
Luminicloth
Revival Tree Root
Scroll of Ice Spikes
Ghosts
A, H, HP
Pirate Pugil

Fished up

20-25
Pugil Scales
Pugils
1
A, H
Sea Crab

10-20
Rock Salt
Crabs
H
Sea Monk

21-29
Sea Monks
A, H
Sea Pugil

10-20
Pugil Scales
Shall Shell
Pugils
H
Ship Wight

Both routes during Pirate Attack

36-39
Skeletons
1
A, H, HP
Thunder Elemental

During lightning weather

27-29
Lightning Cluster
Elementals
A, M
Water Elemental

During water weather

27-29
Water Cluster
Elementals
A, M
A = Aggressive; NA = Non-Aggresive; L = Links; S = Detects by Sight; H = Detects by Sound;
HP = Detects Low HP; M = Detects Magic; Sc = Follows by Scent; T(S) = True-sight; T(H) = True-hearing
JA = Detects job abilities; WS = Detects weaponskills; Z(D) = Asleep in Daytime; Z(N) = Asleep at Nighttime; A(R) = Aggressive to Reive participants