Voidwatch Notorious Monster (San d'Oria Stage III)
Zone
Level
Drops
Steal
Spawns
Notes
Jugner Forest
1 (per Planar Rift)
A, T(H)
??? HP
??? MP

A = Aggressive; NA = Non-Aggresive; L = Links; S = Detects by Sight; H = Detects by Sound;
HP = Detects Low HP; M = Detects Magic; Sc = Follows by Scent; T(S) = True-sight; T(H) = True-hearing
JA = Detects job abilities; WS = Detects weaponskills; Z(D) = Asleep in Daytime; Z(N) = Asleep at Nighttime; A(R) = Aggressive to Reive participants
Historical Background
Belphoebe (i. e. Beautiful Diana) or Belphebe is a huntress in The Faerie Queene, based on Queen Elizabeth, conceived of, however, as a pure, high-spirited maiden, rather than a queen. It is suggested that she is a member of Poseidon's family, and it is known that she is a virgin huntress, possibly resembling the Goddess Artemis. Belphoebe can certainly fight, as a potential rapist found out. She is the stronger, militant sister of Amoret.
Video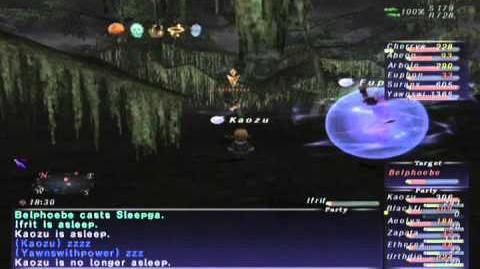 Ad blocker interference detected!
Wikia is a free-to-use site that makes money from advertising. We have a modified experience for viewers using ad blockers

Wikia is not accessible if you've made further modifications. Remove the custom ad blocker rule(s) and the page will load as expected.