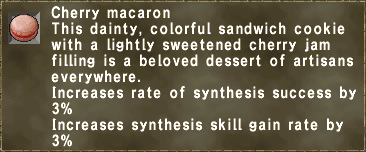 Statistics
Edit
Cherry macaron
This dainty, colorful sandwich cookie
with a lightly sweetened cherry jam filling
is a beloved dessert of artisans everywhere.
Stackable: 12
Food Effects:
(
30 minutes
,
All Races
)
Other Uses
Edit
Synthesis Recipes
Edit
Cooking
(
35
/46
)
Yield: Cherry Macaron x 2
HQ 1: Cherry Macaron x 4
HQ 2: Cherry Macaron x 6
HQ 3: Cherry Macaron x 8
Used in Recipes
Edit
Desynthesis Recipes
Edit
None
Obtained from Desynthesis
Edit
How to Obtain
Edit
Curio Vendor Moogle
Edit
Historical Background
Edit
Dating back to the 18th century, the macaron is a traditional French pastry, made of egg whites, almond powder, icing sugar and sugar. This sweet pastry came out of the French courts' baker's oven as round meringue-like domes with a flat base.