Zone
Level
Drops
Steal
Spawns
Notes
Castle Zvahl Baileys
55
1
A, S, M
~8,500 HP
??? MP

A = Aggressive; NA = Non-Aggresive; L = Links; S = Detects by Sight; H = Detects by Sound;
HP = Detects Low HP; M = Detects Magic; Sc = Follows by Scent; T(S) = True-sight; T(H) = True-hearing
JA = Detects job abilities; WS = Detects weaponskills; Z(D) = Asleep in Daytime; Z(N) = Asleep at Nighttime
Note: Reive Monsters become aggressive after a player takes one offensive action in Reive.
They stay aggressive until all participating players are KO'd simultaneously, clearing all hate lists.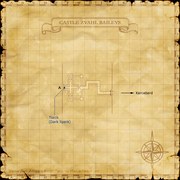 Notes
Spawned during the Artifact Hands quests by checking one of the four torches at (F-8) of the first map.
Uses Berserk often and may use Self-Destruct.
Like many quest NMs, from the moment it is spawned, Dark Spark shares hate with the entire party. In the event of a wipe, Dark Spark will aggro a player from the party who reraises even when it is not looking, but does not aggro in such a manner to players outside the party that spawned it.
After Dark Spark is defeated, you must wait 3 minutes before spawning it again.
Can be defeated by a party of 6 characters at level 53; Soloable by most jobs at level 70 and by Ninja, Dragoon or Summoner at level 60, with some difficulty. (see testimonials)
Video
Ad blocker interference detected!
Wikia is a free-to-use site that makes money from advertising. We have a modified experience for viewers using ad blockers

Wikia is not accessible if you've made further modifications. Remove the custom ad blocker rule(s) and the page will load as expected.