Ad blocker interference detected!
Wikia is a free-to-use site that makes money from advertising. We have a modified experience for viewers using ad blockers

Wikia is not accessible if you've made further modifications. Remove the custom ad blocker rule(s) and the page will load as expected.
Table of Contents

Zone Information

Description

Connections

Entered via Heiroglyphics at Qufim Island (H-7)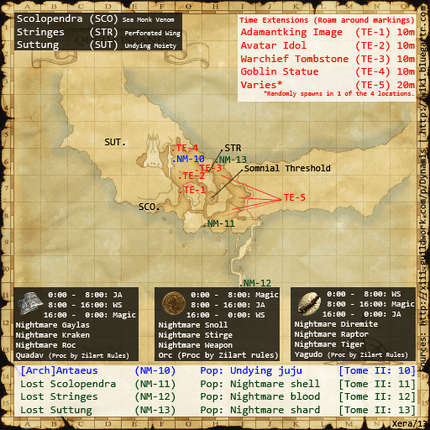 Treasure
Monsters Found Here
The Goblin statues are located near Delkfutt's Tower and in the tunnels.
The Orcish statues are located around the northeastern area near the Light Elemental and the Air Elemental, at H-6 and I-7.
The Quadav statues are located in the area between Scolopendra/Water Elemental and the Crystal Line, at G-7 and G-8.
Nightmare Monsters
Stagger Type
Name
Accessories
Currency
MA: 0:00- 8:00
JA: 8:00-16:00
WS:16:00- 0:00
Nightmare Snoll
BST, DRG, MNK, WHM
O. Bronzepiece
Nightmare Stirge
BST, DRG, MNK, WHM
O. Bronzepiece
Nightmare Weapon
BST, DRG, MNK, WHM
O. Bronzepiece
JA: 0:00- 8:00
WS: 8:00-16:00
MA:16:00- 0:00
Nightmare Gaylas
DRK, RDM, RNG, THF
1 Byne Bill
Nightmare Kraken
DRK, RDM, RNG, THF
1 Byne Bill
Nightmare Roc
DRK, RDM, RNG, THF
1 Byne Bill
WS: 0:00- 8:00
MA: 8:00-16:00
JA:16:00- 0:00
Nightmare Diremite
COR, PUP, SAM, SCH, SMN
T. Whiteshell
Nightmare Raptor
COR, PUP, SAM, SCH, SMN
T. Whiteshell
Nightmare Tiger
COR, PUP, SAM, SCH, SMN
T. Whiteshell
Notorious Monsters