Table of Contents

Zone Information

Description

Connections

Entered via Heiroglyphics at Valkurm Dunes (G-7)/(H-7) Behind Outpost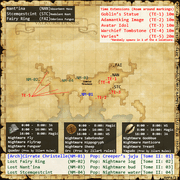 Treasure
Monsters Found Here
The low level goblins are located just west of the oasis in an elongated area, between the Nightmare Goobues and the Nightmare Treants. The High level goblins are located in a circular area near where Valkurm Emperor spawns in normal Valkurm Dunes.
The low level Orcs are located in an elongated area from the outpost west to the oasis. The High level orcs are located south-west of the Outpost, north-west of the Selbina entrance.
The low level Quadavs are located south of the low level Orcs, in the in the eastern half of Siren Sands. The high level Quadavs are located north of the high level Yagudo, near the secret beach.
The low level Yagudo are located in the wooded area toward the zone to Konschtat Highlands. The high level Yagudo are located just south of the high level Quadavs on the way to the secret beach.
Nightmare Monsters
Notorious Monsters
Ad blocker interference detected!
Wikia is a free-to-use site that makes money from advertising. We have a modified experience for viewers using ad blockers

Wikia is not accessible if you've made further modifications. Remove the custom ad blocker rule(s) and the page will load as expected.