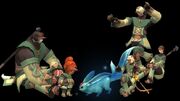 Subtle hues of greens pervade this attire, with the distinctive horn completing the Summoner motif. This set is mostly focused on MP with a boost to summoning magic and avatar statistics. For a fee you can store the set at any Armor Storer.

Number of Pieces: 5
Storage Options:
Armor Depository 500 gil for set on pick up.
Will receive Evoker's attire claim slip upon trading whole set to npc.

Porter Moogle with Moogle Storage Slip 04
Can store single pieces.
* The Evoker's Doublet & Evoker's Pigaches don't require you to finish Borghertz's Calling Hands. They just require that you have started this quest. Once the quest has been started you can go open their respective coffers and get the armor. YOU MUST OPEN THE COFFERS ON SUMMONER.
Note:
Set Summary
Ad blocker interference detected!
Wikia is a free-to-use site that makes money from advertising. We have a modified experience for viewers using ad blockers

Wikia is not accessible if you've made further modifications. Remove the custom ad blocker rule(s) and the page will load as expected.