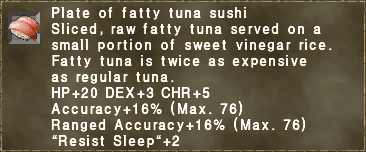 Statistics

Plate of Fatty Tuna Sushi

Sliced, raw fatty tuna served on
a small portion of sweet vinegar rice.
Fatty tuna is twice as expensive
as regular tuna.

Stackable: 12

Food Effects:

(

60 minutes

,

All Races

)

Other Uses

Synthesis Recipes




Used in Recipes

Desynthesis Recipes

None

Obtained from Desynthesis
How to Obtain
Only obtainable through synthesis.
History
Otherwise known as Toro Sushi, it is one of the most well known and expensive dishes in Japanese cuisine. It can cost up to 50 US Dollars or more in fancy eateries in Asia.
Ad blocker interference detected!
Wikia is a free-to-use site that makes money from advertising. We have a modified experience for viewers using ad blockers

Wikia is not accessible if you've made further modifications. Remove the custom ad blocker rule(s) and the page will load as expected.