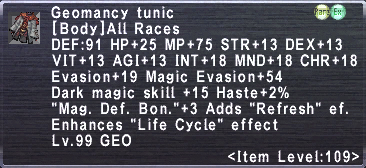 How to Obtain
Quest
After flagging the quest The Bloodline of Zacariah, speak with Wescolina any job and you will be able to have the item crafted by her. You will be asked to give her the following items:
You must wait one game day after trading the items to Wescolina in exchange of the received Geomancer claim ticket for your completed armor (the Bayld fee is charged upon receipt of the armor).
You must wait another game day before ordering another piece of equipment from Wescolina.
Ad blocker interference detected!
Wikia is a free-to-use site that makes money from advertising. We have a modified experience for viewers using ad blockers

Wikia is not accessible if you've made further modifications. Remove the custom ad blocker rule(s) and the page will load as expected.