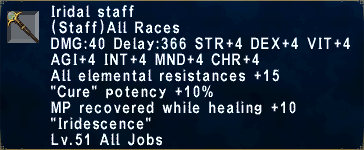 Statistics
Damage Per Second:
6.56
TP Per Hit:
94
Increases all elemental magic damage dealt by 10% (Meteor is not affected).
Increases Magic Accuracy by 10.

Note: The above effects are equivalent to a Magian Staff with Affinity: Magic Damage+1 and Affinity: Magic Accuracy+1.

Charm +5
Obtained from Desynthesis
Historical Background
Ad blocker interference detected!
Wikia is a free-to-use site that makes money from advertising. We have a modified experience for viewers using ad blockers

Wikia is not accessible if you've made further modifications. Remove the custom ad blocker rule(s) and the page will load as expected.