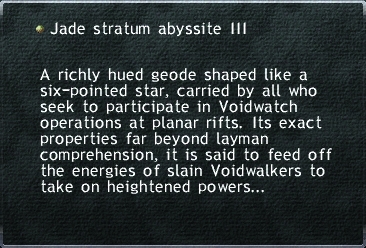 Jade Stratum Abyssite III
Description:
A richly hued geode shaped like a six-pointed star, carried by all who seek to participate in voidwatch operations at planer rifts. its exact properties far beyond layman comprehension, it is said to feed off the energies of slain voidwalkers to take on heightened powers...
Notes:
Can be used to spawn any lower staged Jade Stratum NM's.
Ad blocker interference detected!
Wikia is a free-to-use site that makes money from advertising. We have a modified experience for viewers using ad blockers

Wikia is not accessible if you've made further modifications. Remove the custom ad blocker rule(s) and the page will load as expected.