Job: Thief
Family: Rabbit
Crystal: Earth
Weak against: Water , Lightning , Dark

Notorious Monster
Zone
Level
Drops
Steal
Spawns
Notes
West Ronfaure
9 - 10
1
L, S, Sc
~250 HP

Nyzul Isle

Floors 1 - 19

1
L, S, Sc
??? HP


A = Aggressive; NA = Non-Aggresive; L = Links; S = Detects by Sight; H = Detects by Sound;
HP = Detects Low HP; M = Detects Magic; Sc = Follows by Scent; T(S) = True-sight; T(H) = True-hearing
JA = Detects job abilities; WS = Detects weaponskills; Z(D) = Asleep in Daytime; Z(N) = Asleep at Nighttime; A(R) = Aggressive to Reive participants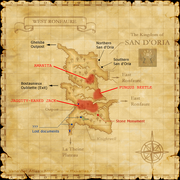 Notes
Lottery Spawn from a Forest Hare at (G-9), (G-10), (H-9) or (H-10). Minimum respawn time is 40 minutes.
Place Holder: in widescan, there are 2 groups of 3 Forest Hare seen above a Carrion Worm respectively. The placeholder is the 3rd Forest Hare in the bottom group. At nighttime, you can find the Enchanted Bones above this group in widescan.
Respawn time for the Forest Hare is 2 minutes 50 seconds to 2 minutes 57 seconds (might extend to 3+ minutes).
Killable by 1 level 10-12 player depending on job.
Nyzul Isle
Ad blocker interference detected!
Wikia is a free-to-use site that makes money from advertising. We have a modified experience for viewers using ad blockers

Wikia is not accessible if you've made further modifications. Remove the custom ad blocker rule(s) and the page will load as expected.