Obtained from Desynthesis
How to Obtain
Synergy
Scrap Source
Potential Augments (max)
Byakko Scrap

Resist Paralyze +5
Dual Wield +1~3
Accuracy +1~7
Attack +1~7
Resist Poison +1~5
Evasion +1~7
Crit. hit rate +1~2%


Genbu Scrap

Regen +2
Attack +5
Physical Damage Taken -5%
Resist Stun +5
Evasion +7

Seiryu Scrap

Water +1
Light +6
Rng. Atk. +1~6
Accuracy +1~2
Evasion +1~5
"Snapshot" +1~3


Suzaku Scrap

Light +5
DEX +1~2
STR ~+4
Double Attack +1~2
Attack +1~7
Evasion +1~7
Accuracy +1~7
Ranged Attack +1~4
Crit. hit damage +1~3%

Up to three augments may be present upon achieving Smooth Synergy results. The amount of augments you receive is determined by the HQ tier. HQ tier 2 gives you 2 stats and HQ tier 3 gives you 3 stats on the item.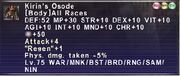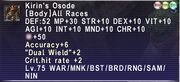 Ad blocker interference detected!
Wikia is a free-to-use site that makes money from advertising. We have a modified experience for viewers using ad blockers

Wikia is not accessible if you've made further modifications. Remove the custom ad blocker rule(s) and the page will load as expected.