Job:
Family Flies
Crystal:
Weak to:
Notorious Monster
Zone
Level
Drops
Steal
Spawns
Notes
Abyssea - La Theine
1

??? HP
??? MP

A = Aggressive; NA = Non-Aggresive; L = Links; S = Detects by Sight; H = Detects by Sound;
HP = Detects Low HP; M = Detects Magic; Sc = Follows by Scent; T(S) = True-sight; T(H) = True-hearing
JA = Detects job abilities; WS = Detects weaponskills; Z(D) = Asleep in Daytime; Z(N) = Asleep at Nighttime
Note: Reive Monsters become aggressive after a player takes one offensive action in Reive.
They stay aggressive until all participating players are KO'd simultaneously, clearing all hate lists.
Notes:
Popped by trading a Transparent Insect Wing to the ??? in the north-west corner of I-7.
Has high HP and defense.
Has a high Triple Attack rate, but a relatively slow attack speed.

Regular attacks deal 200-300 damage, critical hits 450+.

Only special attacks used are Aeroga III immediately followed by Venom if it successfully casts.

This can be interrupted with Stun or through melee hits.
After successfully casting Aeroga III, it will use Venom 1-5 times, followed by a hate reset on its current target. Venom and hate reset will not occur if Aeroga III is interrupted.
Stunning Aeroga III consistently makes the fight very easy.

Has fairly low accuracy; Evasion tank recommended.
Appears to be weak to skillchain damage.
A ninja with a high crit rate, capped haste, and AF1 body will interrupt Aeroga III almost every time.
Video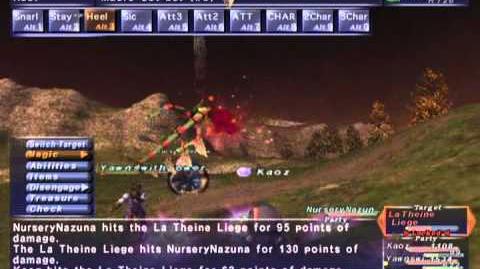 Ad blocker interference detected!
Wikia is a free-to-use site that makes money from advertising. We have a modified experience for viewers using ad blockers

Wikia is not accessible if you've made further modifications. Remove the custom ad blocker rule(s) and the page will load as expected.