Zone
Level
Drops
Steal
Spawns

Notes

50-52

1

A = Aggressive; NA = Non-Aggresive; L = Links; S = Detects by Sight; H = Detects by Sound;
HP = Detects Low HP; M = Detects Magic; Sc = Follows by Scent; T(S) = True-sight; T(H) = True-hearing
JA = Detects job abilities; WS = Detects weaponskills; Z(D) = Asleep in Daytime; Z(N) = Asleep at Nighttime; A(R) = Aggressive to Reive participants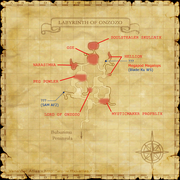 Notes:
Timed Spawn around (I-9) every 2:00 - 2:30 hours with 5 minute windows.
Immune to Stun and Shield Bash, but not Head Butt.
Susceptible, but resistant, to Sleep.
Highly resistant to Silence.
Very difficult to interrupt spell casting.
Other Goblins will link with Mysticmaker Profblix if close enough
Uses Manafont.
Casts the following spells:
Never really seemed to use Tier 3 Spells when using Manafront - 5:25 September 6, 2011
Ad blocker interference detected!
Wikia is a free-to-use site that makes money from advertising. We have a modified experience for viewers using ad blockers

Wikia is not accessible if you've made further modifications. Remove the custom ad blocker rule(s) and the page will load as expected.