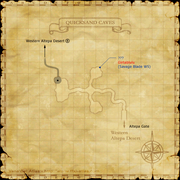 Walkthrough
How to remove the latent effect:

You must perform Weapon Skills and Skillchains on monsters that con Easy Prey or higher.
Weapon Skills performed while under Level Sync will count.
You must accumulate 300 total Weapon Skill Points.
You receive 1 point for opening/soloing a weaponskill, 2 points for closing a Lv.1 Skillchain, 3 points for closing a Lv.2 Skillchain and 5 points for closing a level 3 Skillchain.
Unless you are using the sapara with Paladin (and therefore can use Swift Blade), you will not be able to close any Lv.3 chains at this point using a sword, unless you are already Lv.75, and have already unlocked Expiacion (BLU) or Death Blossom (RDM).
To check to see if the latent effect has disappeared, look at your equipment screen for the elemental resistance. Though it is easy to see the HP drop, it should be even easier to see you lose a good 10 resistance in both schools below.

At any time, you can talk to Curilla to end the quest. If you do end it, all work on the latent effect will be lost as you will need to start the quest again.
Video
See: Videos.
Game Description
Client

Curilla (Temple Knights' Quarters, Chateau d'Oraguille)

Summary

Curilla has agreed to help you polish your single-handed sword skills for the upcoming tourneys.
Ad blocker interference detected!
Wikia is a free-to-use site that makes money from advertising. We have a modified experience for viewers using ad blockers

Wikia is not accessible if you've made further modifications. Remove the custom ad blocker rule(s) and the page will load as expected.