Job:
Family: Bugards
Crystal:
Weak to:

Notorious Monster
Title Obtained: Sobek Mummifier
Zone
Level
Drops
Steal
Spawns
Notes
Abyssea - Misareaux

1

??? HP
??? MP

A = Aggressive; NA = Non-Aggresive; L = Links; S = Detects by Sight; H = Detects by Sound;
HP = Detects Low HP; M = Detects Magic; Sc = Follows by Scent; T(S) = True-sight; T(H) = True-hearing
JA = Detects job abilities; WS = Detects weaponskills; Z(D) = Asleep in Daytime; Z(N) = Asleep at Nighttime
Note: Reive Monsters become aggressive after a player takes one offensive action in Reive.
They stay aggressive until all participating players are KO'd simultaneously, clearing all hate lists.
Spawn Conditions
Companions/Summons
Special Abilities
Passive Traits
Physical Qualities
Magical Qualities

High rate of double attack and decent accuracy.

Further Notes

Tyrant Tusk damage appears to gradually increase as Sobek's HP declines. May deal upward to approximately 1k damage or more to unprotected targets.
Be especially wary of a potential Blizzaga IV -> Tyrant Tusk combo if you have no means of stun.
Shell and HP-boosting food/gear/atmas (Atma of the Sanguine Scythe) are highly recommended for melee. 2800 HP or higher is advisable to avoid K.O. (assuming adequate healing support).
Stoneskin and similar effects such as Magic Barrier can reduce the damage dealt by Tyrant Tusk. However, Magic Barrier is more effective due to not being removed by Sobek's melee attacks.

(see testimonials)
Historical Background
The god Sobek, which was depicted as a crocodile or a man with the head of a crocodile was a powerful and frightening deity; in some Egyptian creation myths, it was Sobek who first came out of the waters of chaos to create the world.
Videos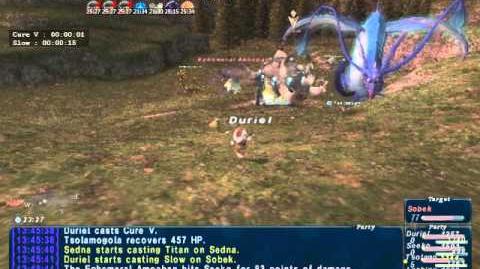 Ad blocker interference detected!
Wikia is a free-to-use site that makes money from advertising. We have a modified experience for viewers using ad blockers

Wikia is not accessible if you've made further modifications. Remove the custom ad blocker rule(s) and the page will load as expected.