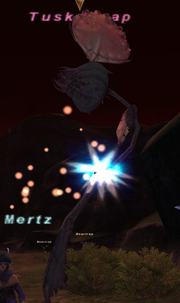 Job:
Family: Flytrap
Crystal: None
Weak to:
Strong to:

Notorious Monster
Zone
Level
Drops
Steal
Spawns
Notes
Abyssea - Misareaux
1
A, T(H)
??? HP
??? MP

A = Aggressive; NA = Non-Aggresive; L = Links; S = Detects by Sight; H = Detects by Sound;
HP = Detects Low HP; M = Detects Magic; Sc = Follows by Scent; T(S) = True-sight; T(H) = True-hearing
JA = Detects job abilities; WS = Detects weaponskills; Z(D) = Asleep in Daytime; Z(N) = Asleep at Nighttime; A(R) = Aggressive to Reive participants
Spawn Conditions
Companions/Summons

Spawned using: Spotted Flyfrond
??? northeast of the bridge in (G-4), north of Flux #5

Special Abilities
Passive Traits

Faster attack speed and rapidly decaying enmity.
Will wipe shadows.

Further Notes

Important to note that Poison Potion will NOT work on this version of Soporific.
Ranged damage HIGHLY recommended as Soporific is a real headache.
Seems to be highly resistant if not immune to Paralyze.

(see testimonials)
Ad blocker interference detected!
Wikia is a free-to-use site that makes money from advertising. We have a modified experience for viewers using ad blockers

Wikia is not accessible if you've made further modifications. Remove the custom ad blocker rule(s) and the page will load as expected.