Zone
Level
Drops
Steal
Spawns
Notes
Abyssea - Tahrongi
1
~??? HP
??? MP

A = Aggressive; NA = Non-Aggresive; L = Links; S = Detects by Sight; H = Detects by Sound;
HP = Detects Low HP; M = Detects Magic; Sc = Follows by Scent; T(S) = True-sight; T(H) = True-hearing
JA = Detects job abilities; WS = Detects weaponskills; Z(D) = Asleep in Daytime; Z(N) = Asleep at Nighttime
Note: Reive Monsters become aggressive after a player takes one offensive action in Reive.
They stay aggressive until all participating players are KO'd simultaneously, clearing all hate lists.
Spawn Conditions
Companions/Summons
Special Abilities
Passive Traits

Possesses enhanced movement speed (12% approx), but paths poorly.
Possesses a minor Regain effect.
Occasionally uses 2 TP moves back-to-back. This is especially dangerous if Impalement is followed by Promyvion Brume or Carousel.
Possesses low accuracy.
Possesses a high critical hit rate.
Resistant to magical damage.

Physical Qualities
Magical Qualities
Further Notes

Evasion tanking highly recommended.

Dodging and being out of range are the only ways to ensure surviving Impalement, which occasionally deals more than 100% of the target's current HP. Damage Taken equipment and Sentinel's Scherzo will not protect from this attack. Migawari: Ichi currently untested. Having Fan Dance active as dancer will also save you since the dmg reduction bottoms out at 20% straight damage reduction.

(see testimonials)
Video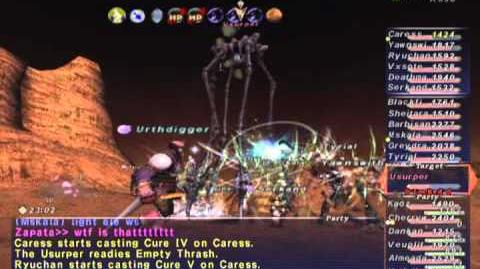 Ad blocker interference detected!
Wikia is a free-to-use site that makes money from advertising. We have a modified experience for viewers using ad blockers

Wikia is not accessible if you've made further modifications. Remove the custom ad blocker rule(s) and the page will load as expected.