This is the first Beastmaster Artifact Armor quest - otherwise known as AF1.
Walkthrough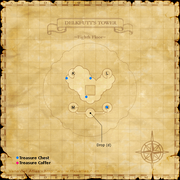 Game Description
Client

Brutus (Chocobo Stables, Upper Jeuno)

Summary

The guiding bell is hidden somewhere inside Delkfutt's Tower. Brutus wants you to bring it back for his deceased chocobo.
Ad blocker interference detected!
Wikia is a free-to-use site that makes money from advertising. We have a modified experience for viewers using ad blockers

Wikia is not accessible if you've made further modifications. Remove the custom ad blocker rule(s) and the page will load as expected.